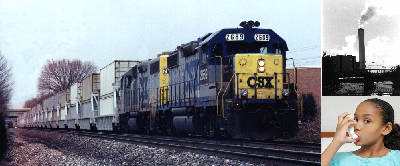 For 23 years now, Chester has been home to the nation's largest trash-burning plant at Front and Highland, now owned by Covanta. This incinerator has the fewest pollution controls installed of any of the six in the state, or in Covanta's fleet of 39 incinerators.

Claiming it'll cost too much, Covanta's incinerator lacks the pollution controls they use elsewhere to remove the nitrogen oxides (NOx) that cause asthma. Chester's rate of child hospitalization due to asthma is more than three times the state average, in large part because Covanta is one of the worst NOx polluters in all of eastern Pennsylvania. Covanta is also one of the worst polluters in the region for mercury, lead, dioxins and other toxins that contribute to cancers, birth defects, learning disabilities and more.

It's unacceptable to help this polluter in our community stay open for another three decades, as other major polluters are shutting down, including coal power plants (like the coal burning in Eddystone) and waste incinerators.

Only 1.5% of the waste Covanta burns in Chester is from Chester. Covanta thrives on making Chester the burning ground for waste from Delaware County, Philadelphia, New York, New Jersey and many other states. Currently, they aim to bring in trash trains from New York City, to increase the amount burned from New York from a current rate of 200,000 tons/year to at least 500,000 tons/year -- for the next 30 years. This plan is outlined on page 144 of a 700-page contract Covanta signed with New York City in July 2013. Since Covanta is not operating at full capacity so far this year, this DOES help them burn more waste and pollute Chester more.

Their current proposal before the Chester City Council must be rejected, as the Planning Commission unanimously recommended at their July 9, 2014 meeting.
Covanta's trash-by-rail proposal helps them lock in 30 years of waste supply from the wealthiest part of New York City, bringing another 15 million tons of trash to be burned in Chester.

It also gives them the infrastructure to make Chester a regional trash transfer hub where extra trash (more than they can burn) can be brought in by rail and trucked out to feed their many other incinerators within the region. Covanta is increasingly getting into the trash transfer business and this proposed waste transfer hub could live on beyond the life of their incinerator.

Disapproving the trash-by-rail plan in no way will jeopardize the $4-5 million in host community fees that are collected by the City of Chester. The city's reliance on host fees is not a reason to approve this plan.

Here's why:


Communities around the country are rejecting incineration and pursuing "
zero waste
" planning as a way to create green jobs, protect public health and generate revenue.
Please help us urge Chester City officials
to do the same, and to start by rejecting Covanta's plan.
"Racism is the intentional or unintentional use of power to isolate, separate and exploit others. . .
Racism is more than just a personal attitude; it is the institutionalized form of the attitude"