Environmental Racism in Chester, Pennsylvania
---
Delco Alliance for Environmental Justice
[ HOME PAGE ] [ NETWORK ] [ 3 DAYS of ACTION ]
contact us
---
Accomplishments of the Chester Residents Concerned for Quality Living (CRCQL) and the Campus Coalition Concerning Chester (C-4)
---
Presentations & Reports:
Updates: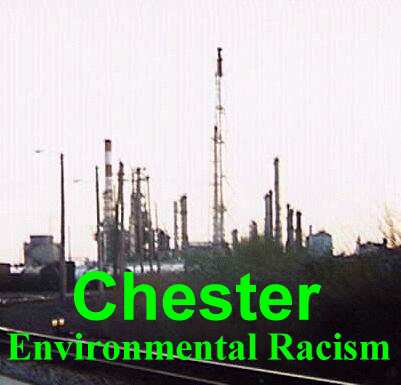 Chester has the highest percentage of low-weight births in the state, and has mortality rate and lung cancer rates that are 60% higher than the rest of Delaware County.

Noise and vibration from the constant stream of trucks carrying infectious waste and garbage have caused the foundations of houses in Chester to crack. These trucks (at a rate of up to one truck every 4.5 minutes) travel the same roads that the children of Chester play in because they have no where else to go.

Blood-lead levels among the children of Chester are higher than anywhere else in Pennsylvania.
Chester, PA, a 65% African-American, low-income community Southwest of Philadelphia is home to four hazardous and municipal waste facilities. The nation's 7th largest trash (and industrial waste) incinerator, the nation's largest medical waste autoclave (closed since 1995), and a sewage treatment plant and sludge incinerator are all cited only yards from the houses of Chester. The EPA has found that blood lead-levels in Chester's children are "unacceptably high," that "air emissions from facilities in and around Chester provide a large component of the cancer and non-cancer risks to the citizens of Chester," and that "both cancer and non-cancer risks, e.g. kidney and liver disease and respiratory problems, from the pollution sources at locations in the city of Chester exceed levels which EPA believes are acceptable."
Chester Residents Concerned for Quality Living was a local grassroots community organization that fought for environmental justice in Chester from 1992 through 2001. Their non-violent approach to combating the situation has been met with harassment and intimidation by the people who own and operate the facilities in Chester. Their office has been broken into and vandalized with racist symbols and slogans, their tires have been slashed, peaceful protesters have been run over by garbage trucks, and they have had other residents turn against them.
Despite this intimidation, under Zulene Mayfield's leadership, they stood strong and won many victories. Now, with the new formation of the Delco Alliance for Environmental Justice in 2007, the community is getting reorganized to face the new wave of industrial threats.
---
http://www.ejnet.org/chester/