What other health problems are linked to dioxin exposure?
In addition to cancer, exposure to dioxin can also cause severe reproductive and developmental problems (at levels 100 times lower than those associated with its cancer causing effects). Dioxin is well-known for its ability to damage the immune system and interfere with hormonal systems.
Dioxin exposure has been linked to birth defects, inability to maintain pregnancy, decreased fertility, reduced sperm counts, endometriosis, diabetes, learning disabilities, immune system suppression, lung problems, skin disorders, lowered testosterone levels and much more. For an detailed list of health problems related to dioxin, read the People's Report on Dioxin.
How are we exposed to dioxin?
The major sources of dioxin are in our diet. Since dioxin is fat-soluble, it bioaccumulates, climbing up the food chain. A North American eating a typical North American diet will receive 93% of their dioxin exposure from meat and dairy products (23% is from milk and dairy alone; the other large sources of exposure are beef, fish, pork, poultry and eggs). In fish, these toxins bioaccumulate up the food chain so that dioxin levels in fish are 100,000 times that of the surrounding environment. The best way to avoid dioxin exposure is to reduce or eliminate your consumption of meat and dairy products by adopting a vegan diet. According to a May 2001 study of dioxin in foods, "The category with the lowest [dioxin] level was a simulated vegan diet, with 0.09 ppt.... Blood dioxin levels in pure vegans have also been found to be very low in comparison with the general population, indicating a lower contribution of these foods to human dioxin body burden."
In EPA's dioxin report, they refer to dioxin as hydrophobic (water-fearing) and lipophilic (fat-loving). This means that dioxin, when it settles on water bodies, will rapidly accumulate in fish rather than remain in the water. The same goes for other wildlife. Dioxin works its way to the top of the food chain.
Men have no ways to get rid of dioxin other than letting it break down according to its chemical half-lives. Women, on the other hand, have two ways which it can exit their bodies:
It crosses the placenta... into the growing infant;
It is present in the fatty breast milk, which is also a route of exposure which doses the infant, making breast-feeding for non-vegan/vegetarian mothers quite hazardous.
If you're eating the typical North American diet, this is where you are getting your dioxin from: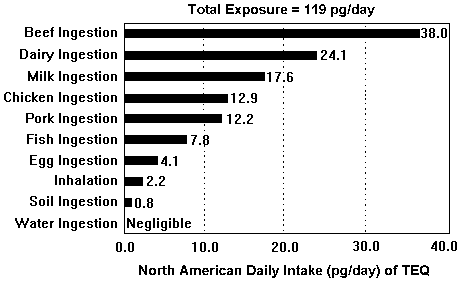 Chart from EPA Dioxin Reassessment Summary 4/94 - Vol. 1, p. 37
(Figure II-5. Background TEQ exposures for North America by pathway)
[A TEQ is a dioxin Toxic EQuivalent, calculated by looking at all toxic dioxins and furans and measuring them in terms of the most toxic form of dioxin, 2,3,7,8-TCDD. This means that some dioxins/furans might only count as half a TEQ if it's half as toxic as 2,3,7,8-TCDD.]
---
Levels of Dioxin in U.S. Food Supply (1995):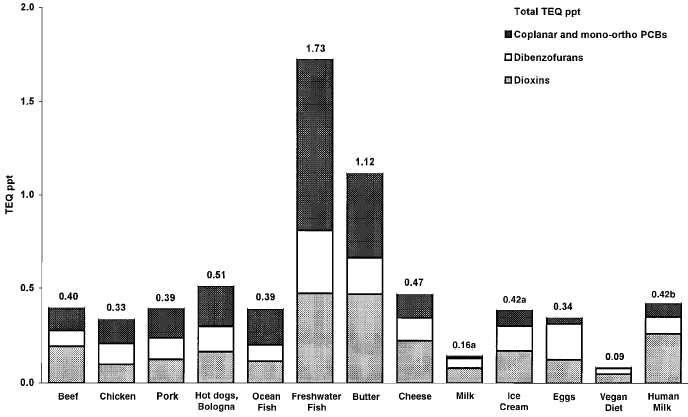 [Chart from May 2001 study by Arnold Schecter et. al., Journal of Toxicology and Environmental Health, Part A, 63:1–18]
Note: freshwater fish were farm-raised on a diet of meat, which is why they show the highest dioxin levels in this study.
For more information on dioxin in the food supply...
EPA's Dioxin Reassessment Report and Related Government Documents
Where Dioxin Comes From:

Health Effects Reports:

Read about the convoluted nearly 25+ year history of EPA's dioxin reassessment to learn why it is still not out in final form. For more details on this, read the Behind Closed Doors report about the chemical industry's efforts to block final release of EPA's dioxin report.

U.S. General Accounting Office (GAO) Reports:



Links
Good Overviews of Dioxin
Dioxin documents available from the Center for Health, Environment and Justice: Other Valuable Resources:
Endocrine Disruptors
Dioxins and Incineration:
Anti-Incineration Links:
---
Environmental Research Foundation's
RACHEL's Environment & Health Weekly Issues
Dioxin & Incineration